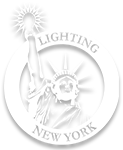 Problem
Before AddShoppers, Lighting New York Director of Web Development Cody Kratzer said the company was doing "absolutely nothing" to quantify the influence of social media on their business. With no experience in social outreach, communicating with customers on social media was practically nonexistent. "We plugged some standard share buttons into our code and prayed to the social media gods," said Kratzer.
Strategy
AddShoppers provided Lighting New York with access to the Social Analytics, Smart Sharing Buttons, Discovery Wall, Social Rewards, and Purchase Sharing apps to meet their needs. Social analytics lets Lighting New York monitor social traffic and see how many people are "sharing, clicking, and buying through shares" on the company's website. The Discovery Wall on their homepage and facebook profile provided Lighting with an innovative way to show their customers the current trends in the lighting industry. The Purchase Sharing app also helped the company create repeat customers who become more familiar with Lighting New York's experts that "learn from the best lighting resources and education systems to provide something a little more than a team of order pushers." The combination of AddShoppers apps also helped their company run a contest that integrated social sharing and referrals.
Results
The results of the Lighting New York contest were an astounding 167% increase in social sharing on their website and an order increase of 100% over the duration of the contest. Additionally, AddShoppers has added an additional 1,409 email addresses to Lighting New York's email integrations since connectivity was made. In the time since their company started using AddShoppers, they have also seen a 5% increase in sales. By providing Lighting New York with clean, user friendly sharing buttons and easy-to-read social analytics, AddShoppers has helped the company focus on social platforms, such as Pinterest, that drive connectivity with their customers.